About Urban Research at KIT
KIT researchers have identified six challenges for urban areas, to the solution of which important contributions are made: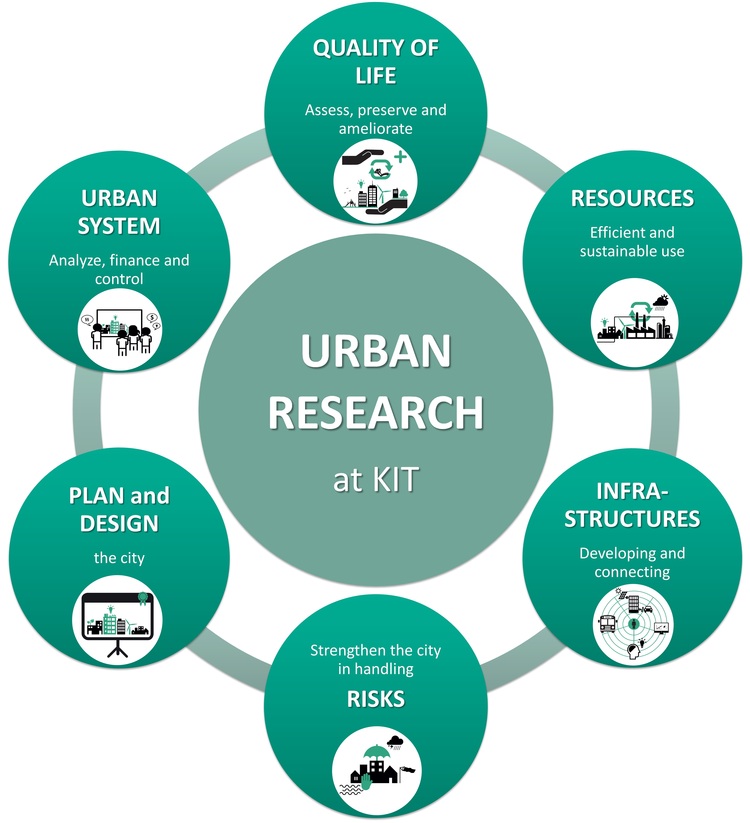 Urban development is a complex task of society, which needs far more inter- and transdisciplinary cooperation than other challenges. Based on an analysis of the current situation and taking into consideration the prognosticated future development of framework conditions, science is to develop the fundamentals of holistic, future-oriented urban development. It is to provide knowledge for orientation to decision-makers and to accompany the transfer of solution approaches to practice in close cooperation with politics, industry, and society.
KIT possesses vast competencies in investigating, developing and designing the city of the future in all essential aspects. Researchers from all divisions of KIT contribute to urban research. As regards the topics covered, they are affiliated to the following five KIT Centers: Climate and Environment; Energy; Mobility Systems; Humans and Technology; Information, Systems, Technologies.
With a unique combination of expertise in natural sciences, engineering, social sciences, humanities as well as planning and design, KIT researchers investigate all functional and life areas of a city using a holistic approach.
KIT provides knowledge for sustainable urban development to stakeholders and policy makers on a local, regional, national, and international level.